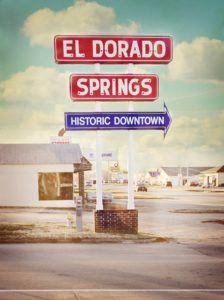 OUR NEED
If you are a veterinarian looking for a location to call home, you have found it. Whether you are a new graduate seeking an experienced mentor or you are a seasoned DVM ready to move into a position of leadership and stability, Mitchell Veterinary Clinic in El Dorado Springs, Missouri is the place for you! We are seeking an individual for either small, large, or mixed animal compassionate care. This could be a perfect opportunity for a husband/wife team or colleagues wanting to go into business together.
Why Mitchell Veterinary Clinic? We are the leading clinic for the surrounding three counties. We serve the city of El Dorado Springs almost exclusively and the local rural communities that surround us.
Our clinic is extremely busy and has been established since 1995. However, further growth is at a stand still. That is where you come in. We need a new associate veterinarian to step in and help us continue to provide quality compassionate care to a community in desperate need of veterinary health services.
OUR COMMUNITY
El Dorado Springs, MO is a quaint, cozy town located in the heart of the Missouri Ozarks region. With a population of just over 3,500 people, it is a tight-knit community that offers plenty to do with its natural scenery and outdoor activities. In addition, El Dorado Springs is home to numerous parks and recreational trails for hiking, biking and camping. There's also an abundance of fishing spots in the area for those who enjoy spending time on the water. Living in El Dorado Springs is a peaceful experience surrounded by friendly people and picturesque beauty. Moving to El Dorado Springs is more than a location for a job; it will become a home. The staff of Mitchell Veterinary Clinic are generational residents themselves. They have raised or are raising a family here! This is the place that you too, can be an established influential part of a community.
OUR CLINIC
We are a mixed animal clinic with a 55/45 percent mix of  large animal to small animal clientele. We have a 6000 sq foot, practical, and efficient facility. Our overhead is low without sacrificing functionality and bright clean work spaces. We offer services to a broad range of clientele with affordable prices and a high profit margin. Mitchell veterinary clinic is fully computerized with Avimark software, in-house labs, digital x-ray, and ultrasound.  We offer small and large animal care spaces, as well as, two fully stocked vet trucks for mobile work.  We have recently updated our large animal haul in area with an onsite hydraulic lift and corral.
              
WHAT MAKES US DIFFERENT
We are offering a full benefits package which includes: a competitive wage, group medical insurance, PTO, paid association dues and licenses, liability insurance, and Simple IRA with a match. What makes us different is we offer continuous mentorship and continual education and training. Dr. Mitchell is highly skilled with nearly three decades of practical experience and is an expert at sharing this knowledge with new doctors and DVM students.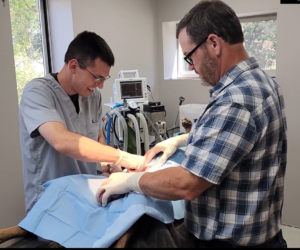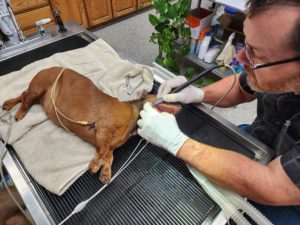 Our hometown clinic provides you with the opportunity to expand into other areas of specialized care according to your training and passion. We believe that a job shouldn't be a list of do's and don'ts, but it should be your life passion and purpose. Unlike working in a larger clinic or for a corporately owned franchise you will have autonomy and ownership over your practical care decisions. We believe in a  common sense approach and doing what is best for each client and patient as individuals, not as boxes to be checked off or financial quotas to be met.
Schedule a time to tour our facilities and learn more about your potential career opportunities in your new home town!
Contact Mrs. Lou Ferguson for more information at:  417-876-5717 or text  816-835-8424
Fill out this application : APPLICATION
Or email your resume to:  [email protected]