Introducing ACE- a year old, green eyed, pit. His momma is
Jaeden Michelle.
ACE is a beautiful boy. He won our October monthly give away. Part of his prize is being our October Pet Of The Month. His Halloween costume of a Puppy Pumpkin won with the most likes. We interviewed this sweet boy and found him to be just as adorable out of costume as he is dressed up for Trick or Treating!
How did you meet your mom?
I met my mom when she visited a friend. It was love at first sight and I just knew we were destined to be together. Her boyfriend made sure she had a happy holiday and had me waiting for her on Christmas morning.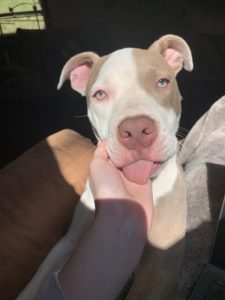 What is your favorite treat?
My favorite treat is milk bones. I looooove Milk Bones. Milk Bones are crunchy and yummy and make my mouth watery!
How do you spend your days?
I spend my days waiting for mom to get off of work. That takes forever. But when she gets home we love going on a walk or a car ride. My favorite thing is snuggling my mom when it's bed time.
What are your favorite words to hear?
My favorite words are treat (MILK BOOONES!!), outside (because…outside), and I Love You. I love you are words you can smell and feel. They make me happy.
What makes your mom laugh?
My mom laughs when I get super hyper. I get the zoomies and when I try to do summersaults her laugh becomes really loud! She giggles and giggles when I try to smile with my teeth.
What is some advice you have for other pets that have humans?
My advice for others with humans would be to always express your personality to your human. They already love you but when they really know you they become loyal and that's what makes you best friends.
What is your favorite memory with your mom?
One day on a car ride, I stepped on the door lock. Mom kept patting the window, calling my name. She laughed and cried a little and I think she got really worried too. Eventually she had to crawl into the car through the trunk to get me out. We were both just excited to see each other all we could do was hug and love on each other. I gave my mom lots of kisses and wagged my tail all over the place.
ACE is a fun guy and is  greatly loved. We look forward to seeing him again on his next check-up.