Teaching A Dog How To Swim

There's really only one thing we can think of that would make a day of swimming better, and that's including your dog.
While some dogs are naturals, others need a little bit more guidance and help when it comes to mastering the doggy paddle (literally). And that's okay – regardless of your dog's natural abilities, you can teach your dog to swim happily and safely.
CAN ALL DOGS SWIM?
Is there truth to the myth that all dogs can naturally swim? The long answer is… kind of but not really. Yes, that's incredibly vague, so let's explain.
Some dogs are water breeds by nature. For example, Labrador Retrievers were bred to retrieve water birds for their humans and Portuguese Water Dogs were bred to work as fisherman's helpers.
some dogs like labrador retrievers are better swimmers than others
These and similar breeds have body structures and coat types that are conducive to swimming. Their legs are lengthy and strong enough to propel them while their coats repel water to stay dry and provide protection from anything that may be in the water.
Other dog breeds, not so much. For example, Bulldogs and Dachshunds (among others) have body and breathing structures that make swimming difficult.
This isn't to say they physically can't swim, they just may need assistance. These breeds can be taught to swim and enjoy the water, but it's important to use a life jacket to assist dogs that aren't "natural" swimmers.
So to make a long answer short: yes, all dogs can swim – as long as they are taught properly and have the right tools to keep them safe.
WHY TEACH YOUR DOG TO SWIM? IS IT GOOD FOR THEM?
If your dog isn't a natural swimmer, it's still a good idea to teach them how and encourage them to enjoy the water.
Why teach your dog to swim? There are two main reasons:
Exercise
Water safety
Let's look at each below.
—SWIMMING IS GREAT EXERCISE FOR DOGS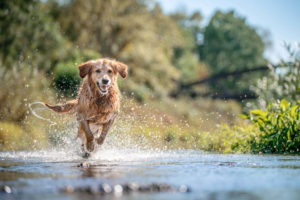 Swimming is an arthritis or spine issues.
Burning off excess energy with swimming not only aids in physical health but also helps with mental health too. Dogs that get enough stimulation through a rigorous activity like swimming are less likely to have destructive behaviors, anxiety, excessive barking, and similar issues.
 —WATER SAFETY
A staggering 5,000 family pets drown each year, and that's just counting swimming pools.
Dogs that know how to swim have much better outcomes when they fall or jump into bodies of water unsupervised. Rather than quickly tiring out from splashing and thrashing in the water, they'll be able to get themselves safely back to land.
With that being said, we definitely recommend a pool safety fence or other measures to keep your pool or other body of water secure.
HOW TO TEACH A DOG OR PUPPY TO SWIM & LIKE IT
So now you're sold on teaching your dog to swim, but aren't sure how to, here are tips for helping your pup learn to swim, safely and effectively.
CHOOSE YOUR LIFE JACKET
A properly-fitted life jacket is the most important tool you can have for teaching dogs to swim. Not only can it save their life in the event of an emergency, but it also provides extra buoyancy and assistance during the learning process which boosts confidence.
The life jacket will also come in handy even when your dog is a proficient swimmer. Situations like jumping off a boat or experiencing severe weather can leave your dog battling rough water and currents – a life jacket will keep them afloat until you can help them.
Be sure the life jacket you choose is waterproof, adjustable for a proper fit, is brightly colored, and has a handle (for you to assist your dog when needed). I like this one.
It's also a good idea to desensitize your dog to the life jacket when you get it. Here are tips on desensitization.
ENCOURAGE YOUR DOG TO GET INTO THE WATER ON THEIR OWN

Forcing your dog into the water will make them nervous and hesitant. Instead of placing your dog directly in the water, try to get them to enter on their own.
You can do this using toys or treats as lures, or getting in the water yourself and calling them to you. Just make sure they are the ones making the decision to enter the water.
START WITH SHALLOW WATER TO BUILD CONFIDENCE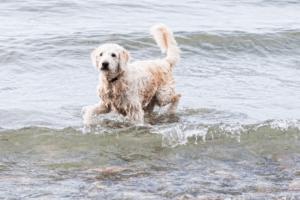 When training any new behavior, the initial goal is to gain confidence through successful repetition. Before you start introducing actual swimming, have your dog spend some time in shallow water, rewarding frequently for calm and confident behavior.
This gives your dog plenty of opportunities to create positive associations with the water – the more good experiences they have, the more likely they will be to venture into more advanced steps.
If large bodies of water make your dog nervous, start with a kiddie pool or other small, contained body of water.
ENCOURAGE GRADUAL MOVEMENT INTO DEEPER WATER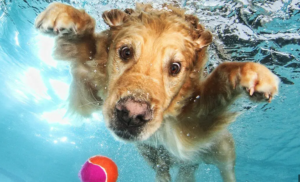 Using positive reinforcement, encourage your dog to slowly explore water that's a little deeper. Take it slowly, building confidence by testing the waters (yes, pun intended) a little bit more each session.
Over the course of a few sessions, you should be able to get your dog into water that's deep enough for them to paddle. When they get to this point, make sure they still have access to water that's more shallow so they can take a break whenever they need to.
Patience is key here. Don't expect your dog to go from dry land to swimming laps in one session. Be consistent, but move slowly, giving lots of positive feedback along the way.
TEACH YOUR DOG HOW TO GET OUT OF THE WATER TOO!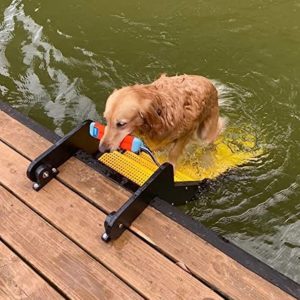 Yes, the goal is to master getting in the water, but don't forget to teach your dog how to get out too. Show them paths back to shore, guide them up the steps, or show them whatever path gets them back to dry land.
This will further build your dog's confidence since they'll know how to return to land if they've had enough water time.
Remember, keep your dog safe and take it slow. With practice and plenty of rewards, your dog will learn to love swimming in no time.
WATER SAFETY TIPS FOR DOGS
Whenever your dog is near water, there are risks and things to be mindful of. Here are some tips for keeping your dog safe:
Check the water temperature – Too cold of water can put your dog at risk of hypothermia, while too hot can cause dehydration and overheating. Small dogs and dogs with short coats are at increased risk of temperature-related issues. A good rule of thumb is to not allow your dog to enter the water you are not comfortable in either.
Monitor water intake – If your dog swallows too much water while swimming, they can experience vomiting or electrolyte imbalances. While this is rare, it's a serious condition, so make sure your dog spends more time swimming and less time swallowing.
Beware of water toxicity – If your dog is swimming in your pool, make sure they are not ingesting a lot of chlorinated water. In natural bodies of water, plants, algae, and bacteria may be present that could harm your dog.
Don't soak up the sun – Prolonged sun exposure can lead to overheating, dehydration, and sunburn.
Take note of other animals – Research what other animals may be in any natural bodies of water you're taking your dog into. Make sure there are no critters that could see your dog as a threat.
Be aware of currents – Dogs are even more susceptible to currents than people are, because of their lower body weight. If you are in an area with strong currents, attach a long lead to your dog's life jacket to help them back to shore.
Never leave your dog unsupervised near water!
RECAP OF TEACHING A DOG TO SWIM
Keeping these safety tips in mind can help you have many successful water adventures with your dog. Remember, teaching a dog to swim should be done at their pace. Start small and gradually introduce your pup to deeper water and longer swimming sessions!